Getting to Pulau Perhentian
Perhentian video --- gallery --- exchange rate show map --- find a flight --- show calendar book with agoda* --- book with booking.com*
Many airlines fly directly to Kuala Lumpur from abroad, like Malaysia Airlines, Lufthansa or British Airways from Europe. Ethiad, Quatar or Emirates from Arabia. Frequent flights are available from south east asian cities like Bangkok, Singapore, Ho Chi Minh City or Jakarta. Low cost airlines like Airasia and Malindoair fly to KLIA2 airport. These airlines offer connecting flights to Kota Bharu or Kuala Terengganu on the east coast. From there buses and taxis drive to the jetty in Kuala Besut.
The taxi cost is 78 MR for the one hour drive. Taking the bus from the airports means having to change it in the town first. The driving time then is appr. two hours.
It is also possible to take a bus from Kuala Lumpur or a minibus from other tourist destinations like Cameron highlands or Taman Negara. But these buses usually go only once a day.
Kuala Besut is a small village 60 Km south of Kota Bharu. There are some agencies, budget accommodations and simple restaurants at the jetty. The speedboats to Perhentian leave every hour between 8 a.m. and 5 p.m. The return ticket costs 70 MR. The boats are small (18 people) but powerful and need 30 minutes for the 19 Km ride. In bad weather conditions it may be an advanture, as our own experience had proofed.
The first boats back from the islands of Besut are leaving 8 a.m., so midday flights from the airports can be reached. Taxi drivers are waiting already at the jetty.
Visa
For an up to 30 or 90 days stay in Malaysia, tourists of most countries do not need a visa. Please check this pdf-overview.
Island hopping
There two options to get from Perhentian to the other islands of Taman Laut Terengganu (Terengganu Marine Park). Directly from Perhentian, when a least five people wish to travel. Local taxi boat drivers offer the trip to Pulau Redang or Pulau Lang Tengah for about 600 MR (resp. 500 MR), if weather and sea conditions are good. The second way is to go back to Kuala Besut and take a taxi to Merang jetty north of Kuala Terengganu. And then take a speedboat from there to the islands. Each return ticket costs 95 MR. This option is more complicated and more expensive, but the only way if you are not enough people.
If you plan to visit Pulau Kapas south of Terengganu City, Taxis and Busses can take you to Marang Jetty (don´t mix up with Merang).
Weather and climate
The weather on Pulau Perhentian is determined by the south west and the north east monsoon. From October till February it rains much and frequently and gusty winds cross the islands, so that most resorts are closed and boat traffic is down. From February on the weather improves and becomes more stabil with more sunshine and less winds. The sea calms down and gets clear again. The best weather and traveling time is fom Mai to September. Although there might be thunder showers in the late afternoon during summer period.
The temperatures are nicely warm around 30 degrees celsius during the dry season, and the sea water is also quite warm with 27 to 29 degrees.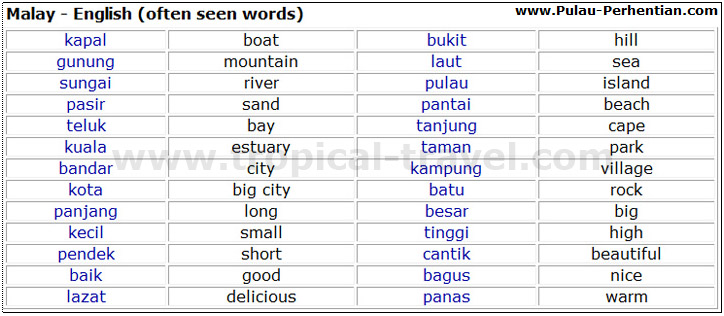 Infos:
time zone: GMT plus 8 hours / GMST plus 7 hours
mobile phone: possible
electricity: 220 Volt with US-plug; Euro plug works without add. adapter plug
wifi: in most resorts available
vaccination: not mandatory
ATM and banks are not available
medical care: none
Perhentian tropical-travel-photos